Problems with the surgery cause first eye ulcer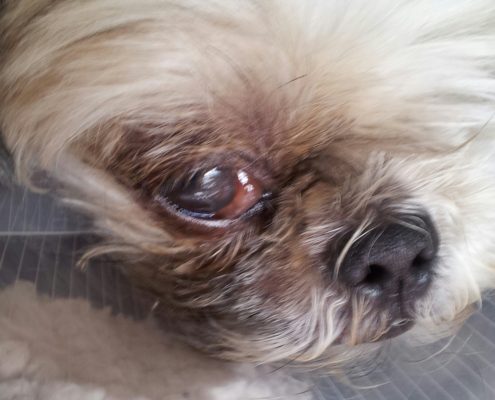 Within 72 hours of the surgery the entire white of the eye was now swollen to the point where Peanut seemed uncomfortable and looked very bad. We called Sisler on his cell phone and informed him of this development. He told us that swelling was not a problem. We asked if we should bring Peanut in sooner than our next scheduled appointment five days later. He said he did not want to see him any sooner.  He did not even suggest that we text him a picture.
Within the next 48 hours, Peanut seemed like he was experiencing pain; he was not acting like himself. In the late afternoon on April 15, we called Eye Care for Animals. Sisler was not in the office. His colleague, Dr. Annora Gaerig was in. The receptionist told us that if we came in we would be charged an emergency upcharge for being seen after hours. So it was put in our lap to decide if bringing Peanut in was "worth the upcharge." (After having paid an enormous sum for the surgery itself, this callousness really manifested the "profit first" mission of Eye Care for Animals.)
We did bring Peanut in for an after hours examination. Dr. Gaerig told us that an ulcer had developed because Peanut was unable to fully close his eyelids due to swelling. She said that the swelling could be from either silicone oil OR from the trauma of surgery. She also told us that on April 18 (our original recheck appointment three days later), Sisler might want to put in a suture, but she did not offer us the option of doing that herself.
Over a month later, we learned that Eye Care for Animals was preparing and sending detailed discharge reports to Dr. Lindley (the referring vet) but NOT providing them to us. All we received were medication instructions. In her discharge report for this visit, Gaerig notes that she DID offer to put in a stitch to help Peanut close his eye. But this statement was false. (We eventually sent a Memo to Sisler notifying him of that error and others in various discharge reports.) This is important because by the time we met with Sisler (who did put in a stitch) Peanut's ulcer had worsened and this could have been prevented had Gaerig put the stitch in herself.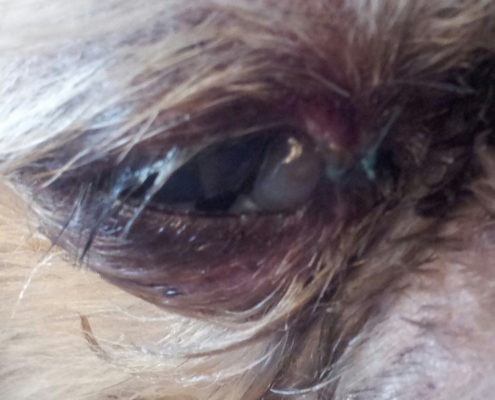 http://dog-eye-surgery.com/wp-content/uploads/2016/10/peanut_mishur_4-23-14b.jpg
1163
1383
Jeff Mishur
http://dog-eye-surgery.com/wp-content/uploads/2016/08/Quik-Logo-300x138.png
Jeff Mishur
2015-08-22 18:48:06
2016-12-30 21:02:30
Our Story Part 3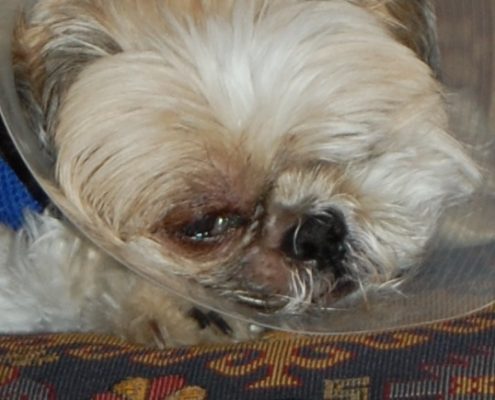 http://dog-eye-surgery.com/wp-content/uploads/2016/10/peanut_mishur_4-23-14a.jpg
479
538
Jeff Mishur
http://dog-eye-surgery.com/wp-content/uploads/2016/08/Quik-Logo-300x138.png
Jeff Mishur
2015-08-23 18:55:31
2016-12-30 21:02:30
Our Story Part 4