Peanut goes under the knife again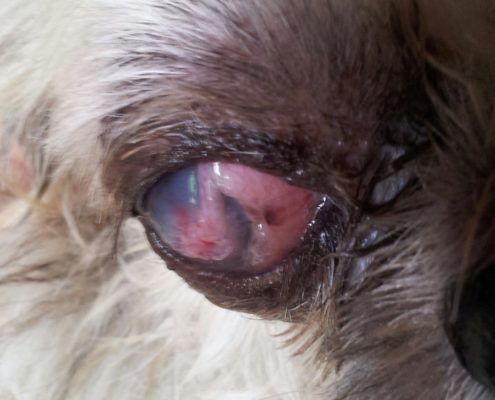 Having lost all faith in Sisler and Eye Care for Animals, we sought a second opinion on May 27 from Dr. Denise Lindley of Animal Eye Consultants in Crestwood, IL (the vet who originally diagnosed the detached retina and recommended Sisler). All we wanted was advice about how to deal with the silicone oil leakage and find a way for Peanut to be able to close his eye. What we received was even more bad news.
Lindley tells us that Peanut's second ulcer has gotten worse since it was diagnosed three days ago and schedules him for same day emergency surgery. The medications prescribed by Gaerig on May 24th were not reaching the ulcer because there were no blood vessels to carry them to the ulcer site. Her conjunctival flap (graft) surgery cost $2,932 plus the cost of additional rechecks and medications over the next several months. NOTE: Sisler is still in Africa at this time and completely unreachable.
Lindley told us the surgery was necessary immediately because an ulcer can entirely destroy a cornea within 24 hours. In addition, the swelling could cause the eye to rupture. In short, if she were not to perform surgery on him, Peanut would not be able to see again — even with an intact retina. Samples of the ulcer were submitted for aerobic and fungal cultures and corneal cytology. All came back negative. According to Lindley, the root cause of the ulcer was due to exposure of the cornea. Dr. Gaerig's own notes from May 24th also express this opinion. This means the silicone oil leakage that prevented Peanut from being able to fully close his eye caused this ulcer (and the earlier one too).
Lindley would later state that she had never seen anything like this before in her career…and she had years of prior experience performing rechecks and follow ups on Sisler's retina patients. She was totally shocked at the amount of silicone oil in the conjuctiva. She knew nothing about the nature of this material and could offer no advice on what to do about it.
After Lindley's surgery Peanut looked like Rocky Balboa at the end of his first fight with Apollo Creed. He was obviously in so much pain. We were filled with regret and remorse having made the decision to have Sisler and Eye Care for Animals perform surgery on him. Our family and friends kept telling us that we made the decision out of love for him and the desire for him to have a normal life.
Only upon seeing Lindley did we learn that Sisler's practice was sending to her detailed recheck bulletins after each visit we had with them. We were never given copies of these bulletins by Eye Care for Animals. We had to request copies after we found out they existed. All we had been receiving were invoices with medication instructions. There were several errors in the bulletins and we submitted corrections directly to Sisler.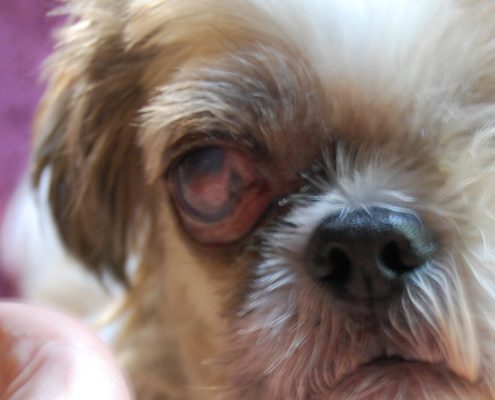 http://dog-eye-surgery.com/wp-content/uploads/2016/10/peanut_mishur_6-29-14b.jpg
1092
1467
Jeff Mishur
http://dog-eye-surgery.com/wp-content/uploads/2016/08/Quik-Logo-300x138.png
Jeff Mishur
2015-08-27 14:02:49
2016-12-30 21:02:29
Our Story Part 8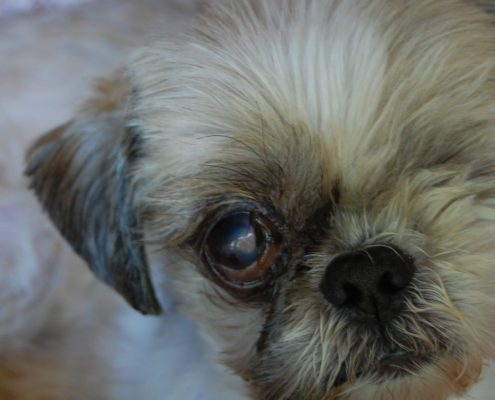 http://dog-eye-surgery.com/wp-content/uploads/2016/10/peanut_mishur_7-28-14.jpg
1967
1980
Jeff Mishur
http://dog-eye-surgery.com/wp-content/uploads/2016/08/Quik-Logo-300x138.png
Jeff Mishur
2015-08-29 14:05:28
2016-12-30 21:02:29
Our Story Part 9