Dr. Denise Lindley makes the situation worse
The morning after Lindley's surgery on Peanut, her office called to ask after him. We told her staff that we wanted to speak with Lindley to ask a couple of specific questions. Later her vet tech called back and said "Dr. Lindley isn't going to be able to call you back." So we said we understood if it was a crazy day for her and asked when we could expect a call back. Her vet tech said "No. She's never going to call you back." Keep in mind this was after an emergency same day surgery that cost about $3,000. After all that had happened with Eye Care for Animals, the callousness from another specialist threw us into a state of rage. We had to yell and scream to make our point. Later when Lindley did call us back it was clear that her staff had illegally recorded our phone conversation because she quoted back to us things we said in anger word-for-word. She told us that if we ever acted in that way again, she would no longer see Peanut as a patient. We asked her how she would react if a medical specialist refused to have a post-surgery conversation with her as a patient (ever) and she backed off.
Later when we tracked down a retina specialist in Seattle to consult with her on what to do about the silicone oil and the corneal exposure, she refused to consult with him and just left us hung out to dry. She attempted to defend her refusal to help us by saying that she had reached out to a retinal specialist in Toronto (Joe Wolfer) who had refused to consult with her without seeing Peanut in person. We are certain what she said about Wolfer was true. But we found it depressing and frustrating that Wolfer wouldn't answer the simple question: "Will silicone oil absorb into the body and, if not, can it be removed from the conjunctiva?" That was a theoretical question that shouldn't have required a trip to Canada to get answered.
In nearly a decade of experience with vets caring for three rescue dogs, we have never met anyone as mean as Denise Lindley. After a third ulcer was detected, we became totally paranoid about ulcers and consequently were in her office weekly for months. She did tear tests each time. Each visit cost over $100. The only solution she offered was a third surgery on Peanut to permanently narrow the opening of his eye so he could make a complete blink. He had no vision from May 27 through early August. She looked at us as a never ending source of revenue.
We finally had to force her to post Peanut's problem on a eye specialty listserv. On our behalf, she asked of the listserv if anything could be done about this silicone oil or if it would ultimately absorb into the body and become a non-issue. Dr. Brad Nadelstein out of Virginia Beach responded. Nadelstein is another of the half dozen or so specialists who perform retina reattachment surgery on pets. Nadelstein posted in writing on the listserv "As we all know, silicone oil does not absorb into the body."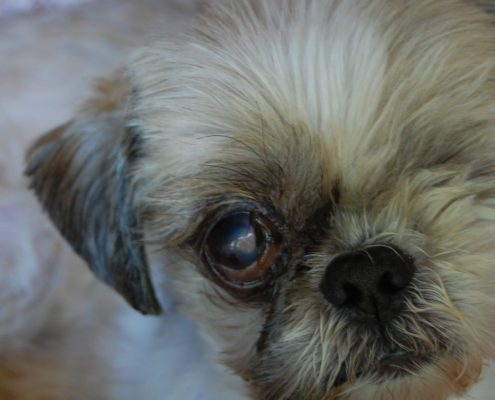 http://dog-eye-surgery.com/wp-content/uploads/2016/10/peanut_mishur_7-28-14.jpg
1967
1980
Jeff Mishur
http://dog-eye-surgery.com/wp-content/uploads/2016/08/Quik-Logo-300x138.png
Jeff Mishur
2015-08-29 14:05:28
2016-12-30 21:02:29
Our Story Part 9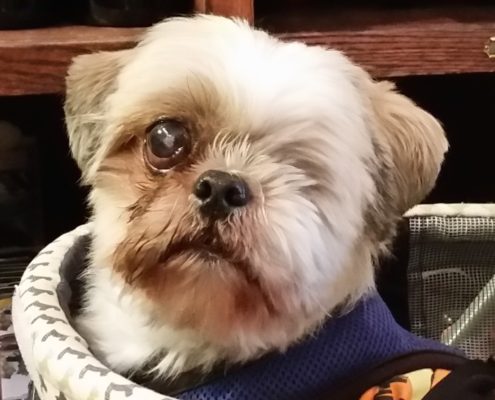 http://dog-eye-surgery.com/wp-content/uploads/2016/10/peanut_mishur_10-12-14.jpg
1154
1538
Jeff Mishur
http://dog-eye-surgery.com/wp-content/uploads/2016/08/Quik-Logo-300x138.png
Jeff Mishur
2015-08-30 14:08:15
2016-12-30 21:02:29
Our Story Part 10